Shiseido Hada Senka Perfect Whip is a popular foam cleanser from Japan, being HG cleansers for many and a no.1 seller in Japan for some time. It is affordable and deemed by many as a 'must buy' skincare product when in Japan.
I find it very difficult to find japanese beauty items in Australia and also online, but sasa.com was having a special for new customers (free shipping after spending $20). I ended up making a small order, buying this cleanser and a japanese sunscreen. I hope you enjoy my review!
Brand
Shiseido
Product
Shiseido Hada Senka Perfect Whip
Content
120g
Price
$8.90AUD at Sasa.com



The product is very affordable, retailing between $6+ depending on where you purchase it. It contains a generous120g, which will last quite a while as you only need a pea size amount to achieve an vast amount of foam. (which will be demonstrated later in this post).

The initial pre-foam texture of the cleanser is toothpaste like and stringy. Due to its stringy-ness, when squeezing it out of the packaging the cap of the product can become messy.
The selling point of this foam cleanser is its amazing foaming abilities. Here is the official promotional ad and CF showing the amazing amount of foam this cleanser can achieve.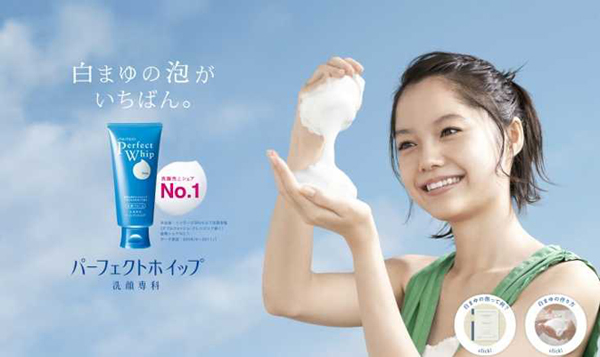 I believe using other tools or using more product, you will achieve the immense amount of foam the promotions show. Using just my hands, however does not provide the giant cloud of foam like shown in the video and promotional photos.
I have provided a photo comparison below, first showing the foam achieved by the Perfect Whip and the second by a regular foam cleanser. Both times, I used the same amount of product, water and lather time.
It is evident that the Perfect Whip achieves more amount of foam that is bouncy, dense and thick compared to the less dense, bubbly foam achieved by the regular cleansing foam.
Unlike the less dense nature of the regular foam, the Perfect Whip foam does not roll or drip down your hands or face as quickly. It is a thicker foam, made of dense tiny bubbles, allowing the foam to sit well on your hand and skin.
The benefits of a denser bubble formation is well shown by the images shown on the packaging of the Perfect whip. Since the foam is formed by smaller denser bubbles, cleaning becomes more effective as the foam will by able reach down every small pore.
I cannot say its effectiveness in removing makeup because I use separate make-up removing products prior to using this foam. However, other reviews say it is not effective in removing makeup. But, that being said, this product is not marketed as a makeup remover. Other products in the Perfect whip line includes makeup removing gel cleanser, a cleansing oil and so on which I believe would be more effective in removing makeup.
As a daily cleanser, it removes remaining oils and impurities that have accumulated throughout the day or night effectively.
It leaves my face feeling very clean, but not tight or 'squeaky'. I am really impressive by the results since past japanese facial foams have resulted in a tight feeling to my skin which I did not like. I have oily-combination skin and I can tell this foam works great for oily skin, as it effectively removes any oils from the face. That being said, I highly recommend hydrating your skin well after this cleanser, or else the skin will want to regain those lost oils and thus cause oilier skin. (but that is an obvious step after all cleansers)
As seen by the ingredients, the Perfect Whip is a basic cleansing foam with no added benefits such as whitening or acne control. It does not irritate my skin or cause any breakouts which I am thankful for. All in all, it is an effective basic foam cleanser.
- Creates a generous amount of thick, dense and bouncy foam
- Only need a pea size amount with each use
- Affordable
-Does not cause break outs
-Effectively removes impurities and oils from face
-Leaves skin feeling soft and not tight.
- Availability
- Takes time to lather the product
- No additional skin benefits
-Can be drying to those with dry/normal skin
Packaging
* * * * *
Texture
* * * * *
Foaming abilities
* * * * *
Cleansing power
* * * *
Price
* * * * *

Final rating
* * * *


Would I repurchase?
No. Although it foams up beautifully and does its job as a cleanser, I would not repurchase it since I would rather a cleanser that had additional skin benefits.